Taiheiyo Cement Ad Awarded Silver Prize
at the Business Advertising Awards on October 25, 2005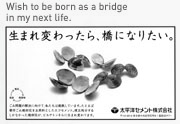 A Taiheiyo Cement advertisement won the Silver Prize in the Page-Bottom Ad Category of the Business Advertising Awards, which are given to excellent advertisements published in the FujiSankei Business i newspaper.
The winning advertisement used a picture of clam shells and the tagline "If I were born again, I want to be a bridge" to highlight Taiheiyo Cement's stance on contributing to a recycling based society by recycling a variety of wastes as raw material for cement.
The Business Advertising Awards have been held annually since the FujiSankei Business i was published as the Japan Industrial Journal. The awards are now in their 44th year.
Recently, more and more newspaper ads have come to feature color, and many prize-winning advertisements-including the Grand Prize winner-were almost entirely large-format color ads. The choice of Taiheiyo Cement's ad for the Silver Prize is all the more remarkable because it was a black-and-white advertisement.