●
Main Activities (FY2021)
Theme
No. of
times held
No. of
participants
Examples of activities
Conservation of the global environment
703
1,470
●Explanatory meetings for local residents ●Environmental briefings ●Environmental monitoring system ●Cleanups ●Activities to protect forests and the local natural environment
Promotion of local culture and communication
760
23,462
●Guided tours of plants, mines and quarries ●Opening facilities to the public ●Sponsoring, participating in and cooperating in local events
Regional development
194
3,406
●Provision of materials and lending of heavy machinery ●Support for community medical services ●Support for the development of local industries ●Disaster prevention activities
Education and human resource development
51
321
●Scholarships ●Engineer training ●Internships and work experience programs
Support for areas affected by disasters
13
22
●Assistance for disaster-stricken areas
Conservation of the global environment
Elimination of yellow rocketcress, an invasive foreign species on Mt. Fujiwaradake (Fujiwara Plant)
As one of our business activities based on environmental assessments for the development of quarry sites, we participated in action to protect the rare plant species of Mt. Fujiwaradake. We participated in the pulling out of an invasive foreign species (yellow watercress) as well as using quarry roads to transport the removed plants and helping to supply equipment required for their removal such as sacks and protective gloves.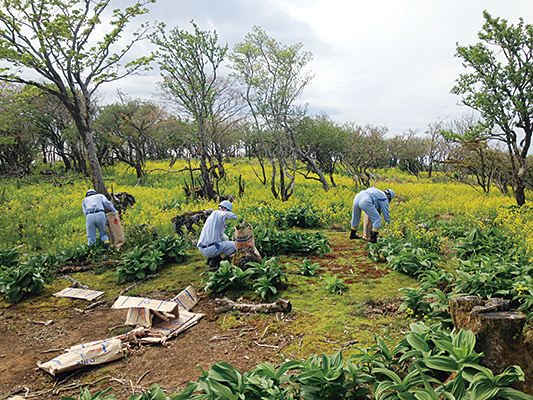 Expansion of a project to convert a former mining site to farmland(CalPortland Company, USA)
CalPortland Company is expanding a project at its Garey Aggregate Plant to refill a former mining site and convert it into farmland. Mud that has accumulated at the bottom of a sedimentation basin is being dredged and used as soil for farming. So far approximately 120 ha have been converted to farmland.
Promotion of local culture and communication
Explanatory meeting about the company held as part of an interaction between high school students and local companies
(Fujiwara Plant)
The commercial and industrial associations of Inabe, Toincho, Asake, Kuwanasansen, and the Federation of Mie Prefecture Commercial and Industrial Associations sponsored an interaction between approximately 320 first year students at Inabe Sogo Gakuen High School and around 20 commercial and industrial enterprises with business premises in the area under their jurisdiction. The enterprises that applied to participate sent representatives to go into the classrooms and explain about their company.
Inspection tour by Roy Cimatu, Secretary of Environment and Natural Resources
(Taiheiyo Cement Philippines, Inc. and Solid Earth Development Corporation)
On August 21 2020, Roy Cimatu, Secretary of Environment and Natural Resources, who had been invited to visit the Province of Cebu, paid a visit to Taiheiyo Cement Philippines, Inc. and Solid Earth Development Corporation after an inspection tour of mines and quarries in the province. Both companies have continued operations despite the COVID-19 pandemic, and he inspected their management methods, and CSR initiatives to protect the environment and ensure employee health and safety. He was full of praise for both companies.
Regional development
Donation of cement for maintaining residential roads in Nghệ An Province (Nghi Son Cement
Corporation, Vietnam)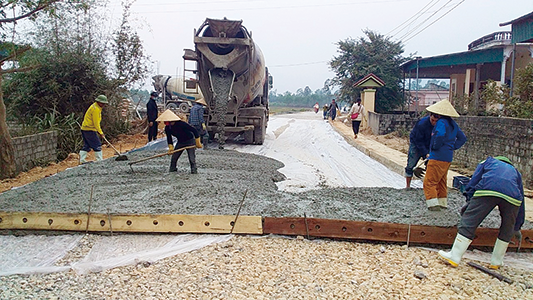 Between 2020 and 2021 Nghi Son Cement Corporation has donated 5,000 tonnes of cement to the village of Quỳnh Lộc where its quarry is located.
The local people have expressed their gratitude for the cement which is being used to build residential roads and drainage facilities.
Food aid for local residents
(CalPortland Company, USA)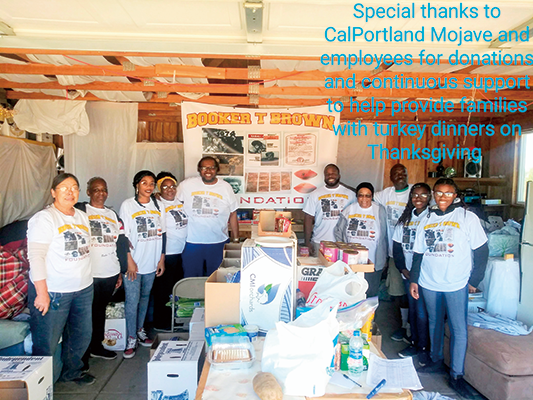 Ever since 2012, the Mojave Plant of CalPortland Company has made an annual donation to a food bank in Mojave, California where the plant is located. The donation goes toward Thanksgiving Dinner baskets for low-income households in the city. Volunteers deliver the baskets individually, and many recipients express their gratitude each year.
Education and human resource development
An outreach class about our cement business held at an elementary school
(Mining Department, Headquarters)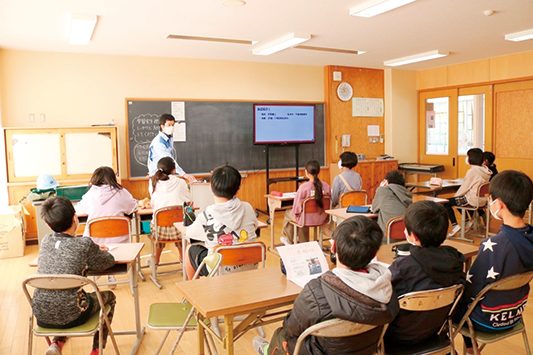 In February 2021, an employee in our Mining Department held an optional outreach class about cement for sixth-graders at the elementary school attended by their son. The outreach class explained in simple terms about the role played by cement in our daily lives, and raw materials such as limestone.
Scholarships for local elementary and middle school pupils
(Nghi Son Cement Corporation, Vietnam)
As an expression of gratitude to local residents who cooperate with its plant and quarry operations, since 2004 Nghi Son Cement Corporation has endowed the Nghi Son Cement Scholarship for children who have lost a parent through an accident or ill-health.
Support for areas affected by disasters
Setting up a sandbag station and contributing to local disaster prevention
(Chugoku Branch, Maruse K.K)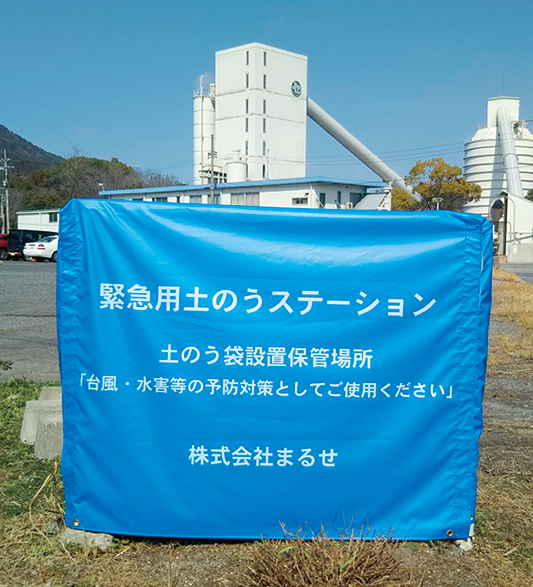 The Maruse K.K. Satou Plant is located in a residential area and in the vicinity of a preschool. The plant aims to coexist harmoniously with the local community, and set up a sandbag station in the plant car park as a measure to protect houses in the event of localized flooding. The station has been in operation since March 2021 and local residents can make free use of the sandbags to protect their homes.
Donations of food and hygiene products to local residents
(Taiheiyo Cement Philippines, Inc. and Solid Earth Development Corporation)
Taiheiyo Cement Philippines, Inc. and Solid Earth Development Corporation donated food aid such as rice and canned products to people suffering from the impact of the COVID-19 pandemic in Cebu Province. They also donated 1,000 masks and 20 thermographic devices sent by Taiheiyo Cement Headquarters.