Kaidelight
Kaidelight is a cement-based adhesive for oyster farming in which oysters are attached to ropes on floating rafts.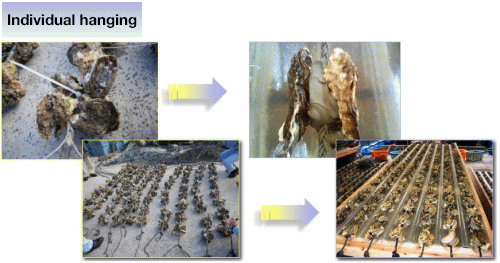 Features not offered by ordinary cement adhesive
Rafts can be floated the day after oysters are cemented.
Viscosity is adjusted to prevent dripping.
Strength is adjusted to prevent post-hanging separation.

Note: We have verified that there are no effects on the oysters' composition. (Analyses conducted by Japan Food Research Laboratories).
Lineup
Kaidelight
:Use in temperature of 10°C or more
Kaidelight
(for cold regions)
:Use in temperature of 10°C or less (but within a range in which no freezing occurs)
Benefits
Increases growth rate by 10% to 20% per six months and ensures even oyster shape
Reduces the frequency of cage replacement and sorting work
Reduces the number of cage cleanings
Doubles work efficiency compared with hanging oysters individually
[Contact]
Sales & Planning Group
Mineral Resources Business Department
Tel: +81-3-5801-0351  Fax: +81-3-5801-0361