Features of Ecocement System
Produces staable-quality cement that can be used for a wide variety of applications.
Dioxins contained within incineration ash are safely broken down bay treading them at high temperatures(1,350℃ or more).
Heavy metals remaing in incineration residue are recovered and recycled, so that no additional waste material is generated.
Theise features are a major contribution toward extending the life of landfill sites and building a recyacling-based society.
Quality and safety of Ecocement
How strong is concrete in which Ecocement is used?
Ecocement-based concrete exhibits the equivalent strength of ordinary Portland cement through the careful adjustment of the water-to-cement ratio.
How durable is concrete in which Ecocement is used?
The drying shrinkage of Ecocement-based concrete after prolonged outdoor exposure and its durability in terms of neutralization and freezing/thawing resistance is equivalent to ordinary Portland cement.
What about the leaching of heavy metals?
The amounts of heavy metals that leach from Ecocement-based concrete all comply with the Environmental Quality Standard for Soil Contamination (Environment Agency Notification No. 19).
The Japan Society of Waste Management Experts' "Exploratory Commission Report on Leaching of Heavy Metals from Ecocement Products" (March 24, 2000) confirmed that there were no problems with heavy metal leaching, even under the strict leaching tests of foreign countries.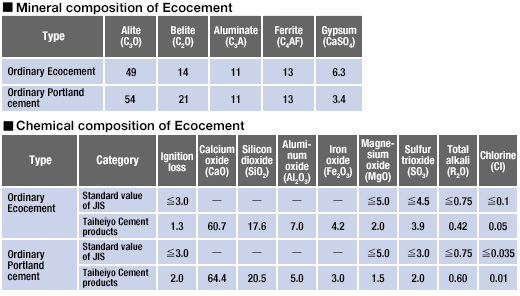 Economic viability
By using large quantities of incineration residue from the burning of municipal refuse, the Ecocement System can prolong the service life of final disposal sites and reduce the cost of having to build new sites.
The costs associated with having to stabilize heavy metals in the landfills at final disposal sites are eliminated.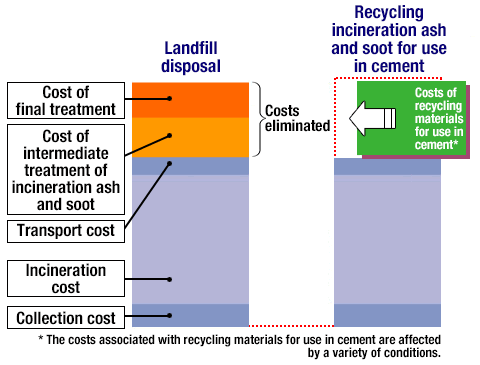 Contributions to the global environment
Thorough environmental measures
Effluent treatment that satisfies effluent standards
Effluent is treated to satisfy effluent standards.
Dioxin measures
Ecocement products do not contain any dioxins because they are completely broken down in a firing kiln heated to over 1,350°C.
Thorough exhaust gas measures
Thanks to the latest exhaust gas treatment equipment, smoke and soot emissions satisfy emission standards (according to Article 3 of the Air Pollution Control Act). In addition, the reconstitution of dioxins is prevented by rapidly cooling kiln exhaust gas from 800°C to 200°C in a cooling tower. The dioxins in the exhaust gas fall below the 0.1ng-TEQ/m3N emission standard for waste incinerators as established by the Act on Special Measures concerning Countermeasures against Dioxins.
Effect on reducing environmental impact (Life-cycle assessment results)

Not only can CO2 emissions and waste volume be reduced compared with conventional treatment of the incineration residue and landfill disposal for municipal waste, the amount of natural resources used, including limestone, clay, and silica can be lowered. In addition, the recovery and recycling of heavy metals contributes to the conservation of metal resources.